Upcoming Bamboozle Tips!!!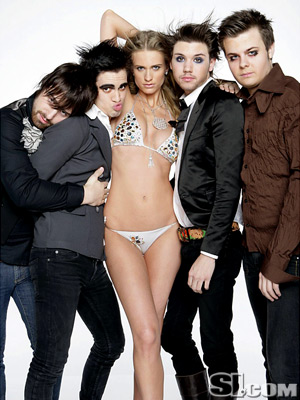 Coming in the next week will be a complete breakdown on the Bamboozle festival. The festival that makes all the emo girls and guys cream their pants. I will let you know how many bands use keyboards, what bands sound alike but playing at the same time, when the guys from Panic At The Disco are giving HJs behind the Major League Baseball stage.....Basically all the tips and needs for a complete emotastic time at the sewage infested parking lot known as the Meadowlands.
stay tuned.
5/4/08 - OK so i am so bummed that i didn't get to roll to Bamboozle East that I didn't want to put together any list of what you should or shouldn't of seen. Obviously that shows my slackness but also my disgust for the genre that is now pulling in 50k a day in a parking lot in new jersey. as my new favorite friend just told me... FUCK OFF! Thank you, good night.